Shannon Long talks with her 4-year-old daughter, Hope, after having lunch with her extended family in West Paris, Maine. Long is six months into recovery from an addiction to heroin and opioids. She started abusing pills as a teenager in her rural Maine town.
A group of middle school students wait on their float for the homecoming parade to begin in Pahokee, Florida.
Identical twins Mary McCarthy, left, and Amelia "Millie" Lane celebrate their 100th birthday with their children and grandchildren at Mary's home in Portland, Maine.
Deering High senior Ell Jolley rests their hands on senior Izzy Smith's leg as Smith applies Jolley's make-up helping them transform into their drag persona "Gaybraham" before the high school's second annual drag show.
Brandon Wall, 19, jumps up and down screaming in the living room at the home he lives in with his mother Donna Wall in Lewiston, Maine. Donna has three adult children living with her who all have autism. Brandon and his twin brother are nonverbal and need round-the-clock care, while her older daughter Ashleigh is higher functioning and helps her mother take care of her brothers.
Monet Acres Trailer Park. Palm Beach Gardens, Florida.
Mattanawcook Academy cheerleaders practice at the State Cheerleading Championships in Augusta, Maine.
Friday night at the Vets Club. Valentine, Nebraska.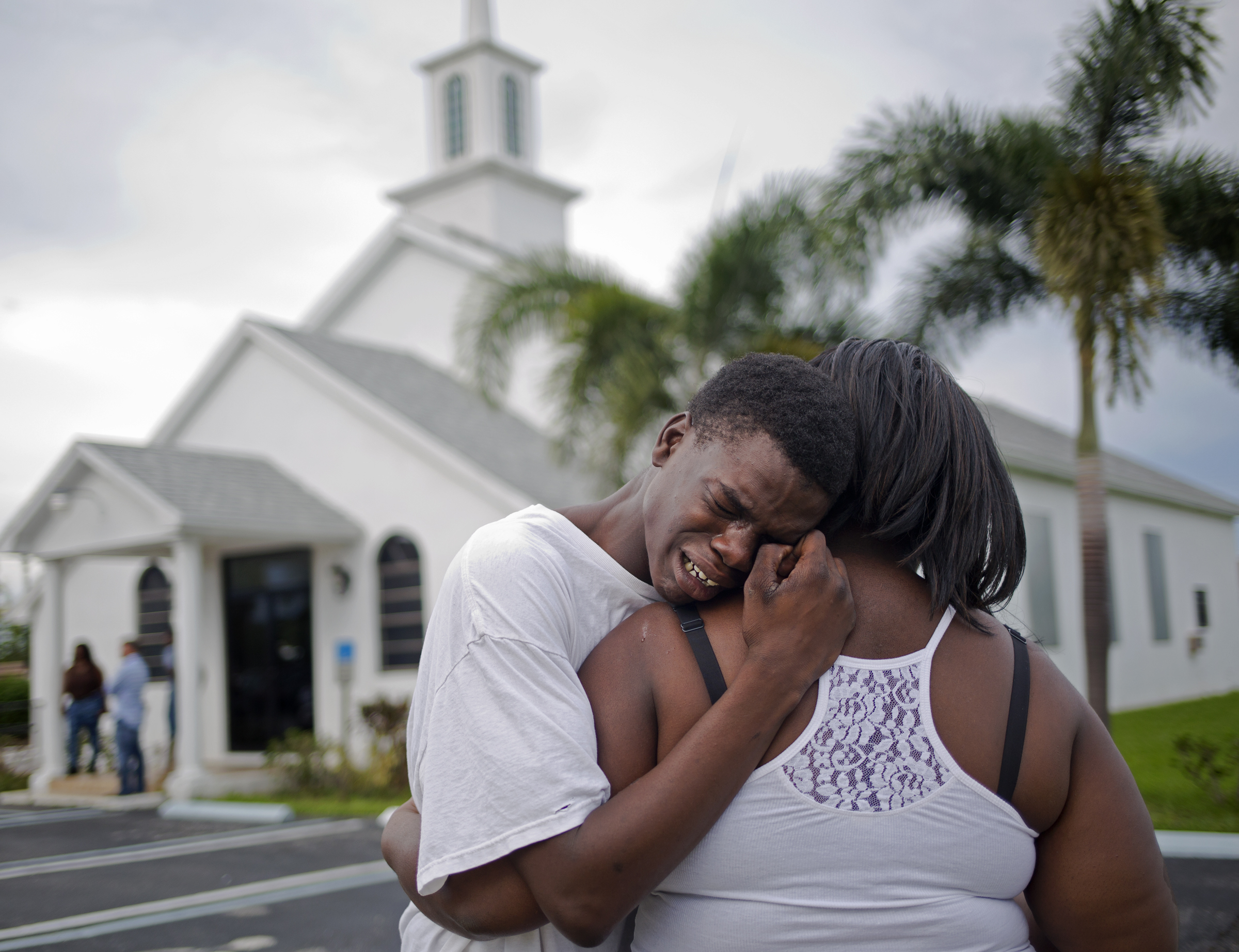 Lawerence Alston, 17, cries on the shoulder of a friend during the wake of his best friend Johnny Taylor Davis Jr. who was killed in a drive-by shooting in his North West Palm Beach neighborhood.
Davis' neighborhood, which is just a few miles away from Trump's winter home Mar-a-Lago, was ravaged by gun violence over the summer of 2015. Overall, ten people were killed at 28 were wounded.
Donald Trump illuminated by bright stage lights at a campaign rally in Bangor, Maine. Trump campaigned hard in the second district of the state and went on the win it in the election, splitting Maine's electoral votes for the first time in state history.
Community members stand alongside the road to pay their respects as Capt. Ben Cross' funeral procession makes its way to Riverside Cemetery in Bethel, Maine. Cross, a 26-year-old Bethel native, was among three Marines killed in August when their MV-22 Osprey crashed into the Coral Sea. His body came home over a month later and hundreds of community members came out to honor him.
Thérèse Ononye feeds her daughter Melissa Paoula Ononye, 2, on their cot at the Portland Expo on Tuesday, June 25, 2019.
Ononye and her husband left the Congo in 2015 and traveled to Brazil, where her daughter was born. After living in a favela for some time they began the dangerous journey to the United States, traveling up through South and Central America and crossing the border from Mexico. Ononye and her family were just one of dozens of African asylum seeking families to travel to Portland, Maine from the southern border. Most of the families living in a local gymnasium because of a lack of available housing.
Senior Whitney Coro dances with her boyfriend Gavin Beard after she was crowned prom queen during Carrabec High School's prom at T&b Celebration Center in Skowhegan, Maine.
A woman walks through a park in Portland, Maine during a strong winter nor'easter.