Samaná is a small coastal town on the Northeast coast of the Dominican Republic. The sex tourism industry in the DR is one of the largest in the world. Men from all over the U.S., Canada, Europe, even Asia come to the country in search of some island girl fantasy, but the reality facing the island girls they encounter is usually far from their minds.
Caption: Berenise Nuñez puts on heels before going out to work. Nuñez has been a sex worker for almost ten years and is a mother of 11-year-old and 4-year-old boys.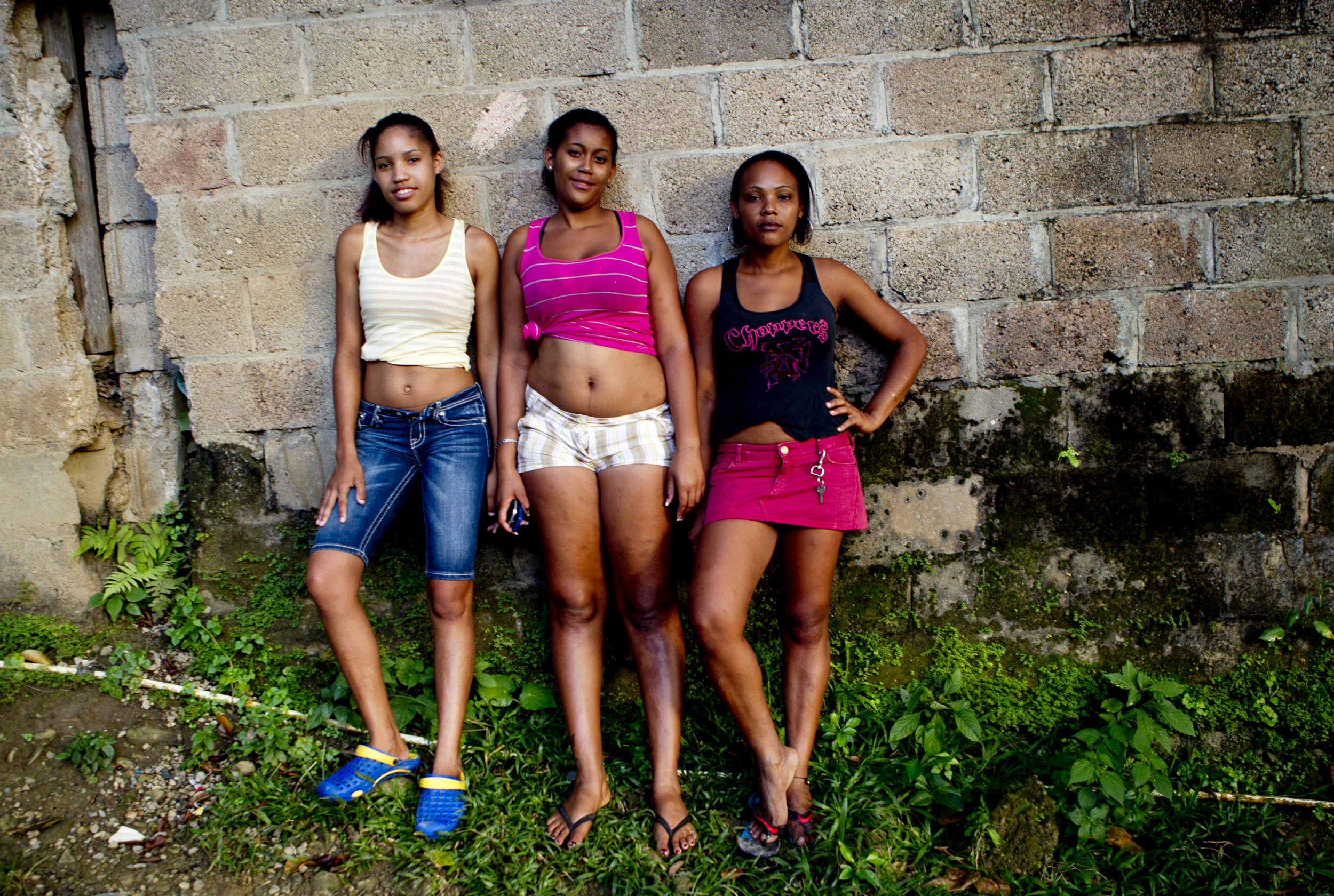 From left, Chabeli Mejia, 15, Yoldeidi Martinez, 20, and Berenise Nuñez, 23, are best friends, mothers and, like a lot of the local girls they know, sex workers. They help each other raise their children because the fathers are usually absent and they work the street together because it is safer than doing it alone.
Berenise gets her hair done at a salon in her neighborhood. Samaná is a tight-knit community where everyone knows everyone. People help one another and are generous with their time, but in small-town life, gossip also spreads like wildfire. Everyone knows who the local sex workers are.
Berenise feeds Chabeli's daughter at her home while Chabeli is out working. As the oldest in her group of friends Berenise frequently helps out the younger ones out with their children.
An Italian tourist greets a sex worker on the street in Samaná. Although Samaná isn't the most well-known sex tourism town in the Dominican Republic, Berenise, Yoleidi and Chabeli are just a few of the many sex workers in town.
Yoleidi Martinez tries to pop a blemish on her face, while Berenise dyes her hair red. The girls said that upkeep of their appearances is necessary for their line of work.
Berenise's youngest son, Chanel, 4, plays on the porch outside of their home. Berenise lives a ten minute walk from the tourist laden areas near the water. Allowing her to work and come home with ease.
Yoleidi and Berenise get dressed to go out and work. The girls usually make $20-50 per client, and at most have two clients per day.
Berenise and Chabeli have drinks with a client at a restaurant in the tourist waterfront. The Canadian tourist is a regular client for Chabeli and he believes that she is 21, not 15. When asked why he likes come to Samaná for the winter, he said, "This place is a paradise for men. These Dominican women just love to have sex."
Berenise tries to grab a piece of lunch meat that Chabeli jokingly swiped off her plate during an afternoon at the beach with their kids.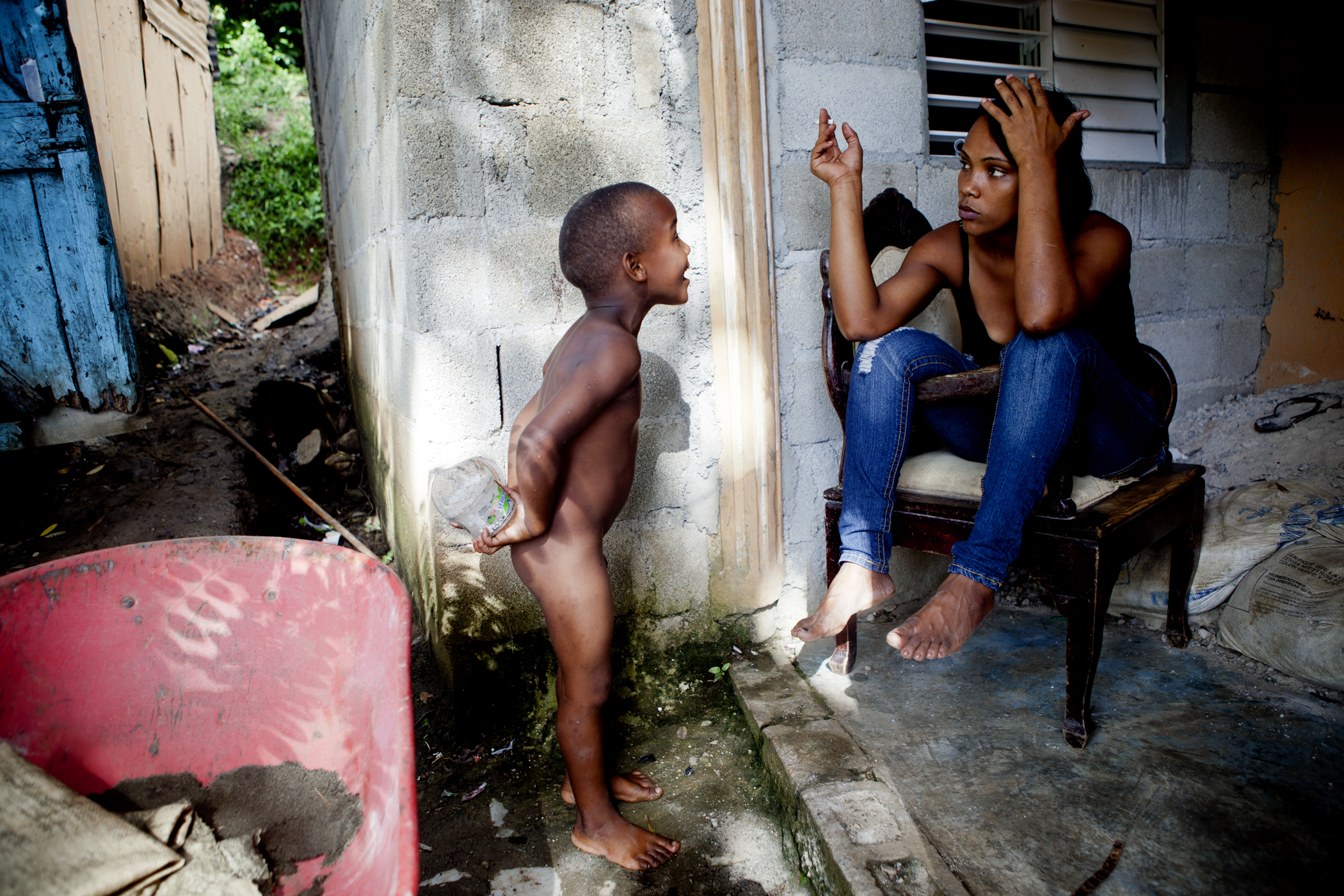 Berenise smokes a cigarette outside of her home while her youngest son throws a fit.
Yoldeidi on the couch at Berenise's home. Berenise's house is where the girls and their children spend a lot of their time.
An American client places his hand on Berenise's back. Moments later they go to his friend's car where Berenise will preform a sex act for a bit of money.
Berenise sleeps on the beach while her kids play. Staying out late to work is difficult for the mothers because their kids get up so early. But, being a sex worker is much more lucrative than cleaning houses, or being a rich person's nanny and they girls can work when they want to, so they can spend more time with their kids.
Chabeli sits on her bed with her daughter Isabel. When Chabeli became pregnant at 13 her parents kicked her out of the house. She moved in with Isabel's father, but he was a drug addict and one day he beat her, so she left him. With no one to help her support her daughter, she turned to sex work. Now, she rents one room that has a bed in it for about $45 a month, but she is saving up to build a small house next door to Berenise.
The girls head down into town from Berenise's house.