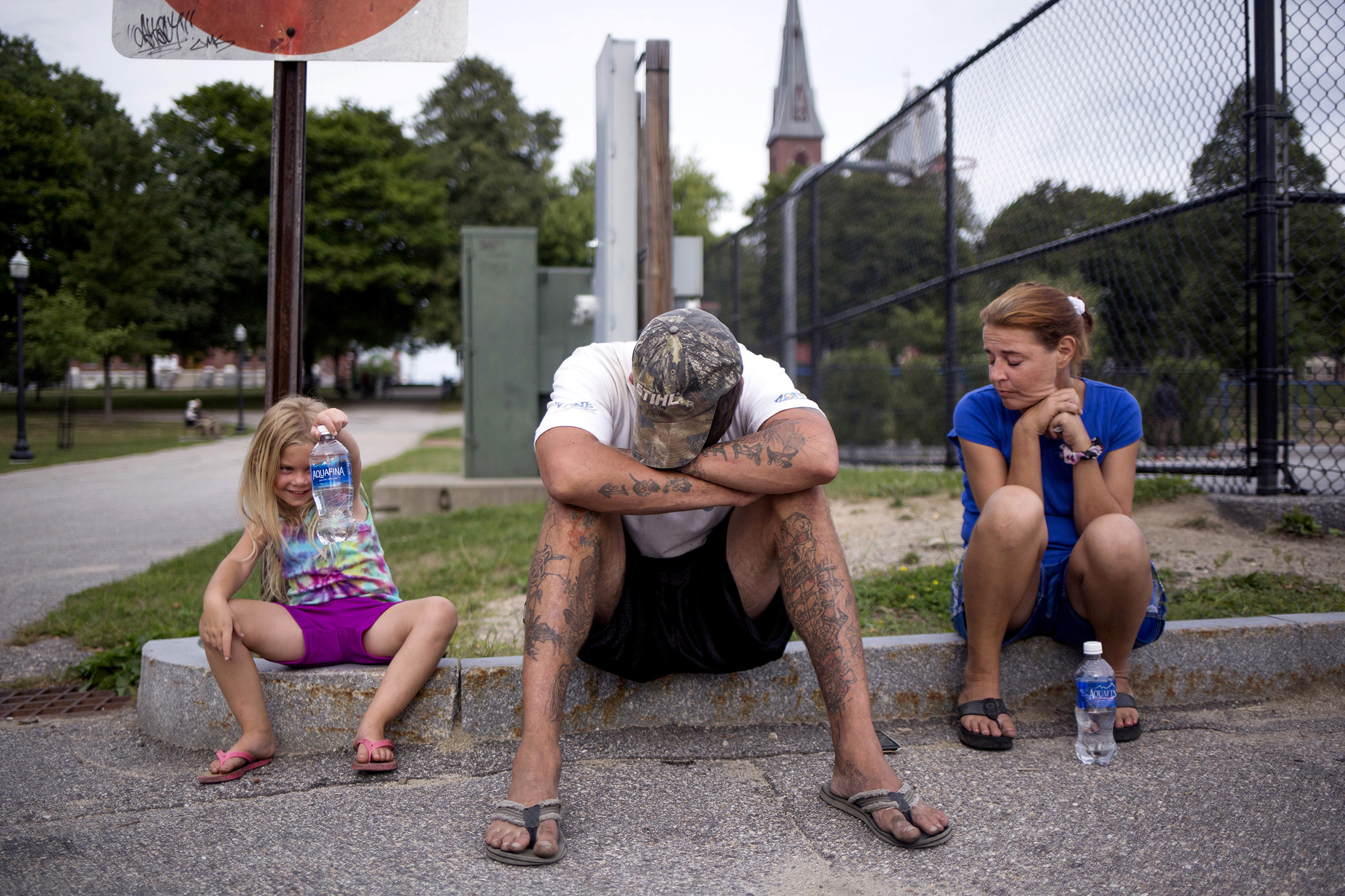 Chrissy Chavez, Troy Jethro, and Chrissy's five-year-old daughter, Arianna, moved to Maine in the beginning of July 2016 with high hopes for a new start in life. Maine seemed like the perfect place. Troy met a lobsterman down in Florida and he told Troy that he could come work with him on the water. They packed up and headed north. Within a few days of being in Maine, they were homeless.
Arianna, Troy and Chrissy waited at a park in Lewiston all day hoping to hear from a landlord about a potential apartment.
The apartment they found, and paid for, was a scam. The job? It disappeared along with the friend. Within a week the family found themselves living in a homeless encampment in wooded area of Portland. It was better than the bed-bug ridden homeless shelter and at least in the woods they could be together.
Arianna ran out of their tent in the woods shortly after waking up in the morning.
Troy, Chrissy and Arianna walked through the shopping center parking lot to the nearest laundromat to charge their phone. Troy was constantly waiting by the phone hoping to hear from the Department of Health and Human Services (DHHS) employee who was trying to help them find a landlord that would take a housing voucher. Police were forcibly shutting down the camp at the beginning of September. The clock was ticking. They only had a few days to find a home.
Troy talked on the phone with their DHHS worker while Chrissy and Arianna ate lunch from a nearby McDonalds at their campsite. Chrissy suffers from anxiety and depression and at the time was unable to afford the medicine that she used to take for it. She said that the stress and instability of being homeless, on top of her untreated issues, was completely overwhelming at times.
The family's tent in a little corner of the encampment. Troy and Chrissy made sure to set up their tent away from some of the others in the camp so Arianna wouldn't be exposed to the alcohol and drug abuse that was prevalent among a lot of the residents. They moved to Maine mostly because Troy was battling an addiction to opiates and they thought the best way to beat it was to leave their home in Florida and the bad influences of his past.
Arianna walks ahead of her mother toward the gas station to get coffee. She knows her way around the woods and the shopping center after living there for over a month. Troy and Chrissy have both tried to make their living situation as much of an adventure as possible for Arianna.
Troy kisses Arianna after she brings him back coffee from a gas station about 15 minutes walking distance from their camp. Troy isn't Arianna's biological father, but that doesn't matter to him.
Troy's favorite saying is "can't never did nothin'". His dad used to say it to him when he was a kid, he even has it tattooed on his foot. When Arianna would tell him she couldn't do something Troy would ask her, "What does can't do?" and she would reply, "Can't never did nothin'."
Arianna writes her name and doodles on a piece of paper by the fire as night falls at the camp. She was supposed to be starting kindergarten in a few days, but without an address, they couldn't register her in a school.
Matt Coffey greets Arianna with a pat on the head as they pass each other on the trail. Coffey has lived in the encampment for five years and, like pretty much everyone else living there, grew fond of the bubbly little girl and was a little sad to see the family go.
The DHHS employee working with the family told Troy and Chrissy that a landlord in Lewiston was willing to take their housing voucher and that they could move up to Lewiston the next day.
Chrissy sinks down and begins to cry as Joe Dunne, the potential landlord, broke the news to them that they had not yet been approved for the apartment and that he was concerned about renting to people from the camp because of the news coverage about a stabbing that happened there, which had nothing to do with Chrissy and Troy
Arianna played for hours at Kennedy Park in Lewiston while her parents wait to hear if they will be able to move into the apartment that day. Their landlord couldn't tell them when it would be ready.
Arianna grabbed Troy's hand to get his attention while they wait for news on the apartment outside of the property management company's office in Lewiston. The landlord, after some time and convincing agreed to rent to the family. He said he didn't want to leave Arianna on the street.
Arianna continued to lay in bed at a Motel 6 as her parents pack up their belongings. The family's potential landlord paid for them to spend the night in the motel because he said he "didn't want the little girl sleeping on the street". They still didn't know if they were getting the apartment, but thought they had a decent chance because he had paid for their motel room. "I don't know though, maybe he just did that to get rid of us." Troy said.
Chrissy and Troy argued in a restaurant parking lot during the second day of waiting to hear from the landlord. The stress of being homeless, trying to find a place to live and taking care of Arianna put a lot of pressure on their relationship.
Arianna stands a few feet away from Troy as he takes a moment to himself after arguing with Chrissy.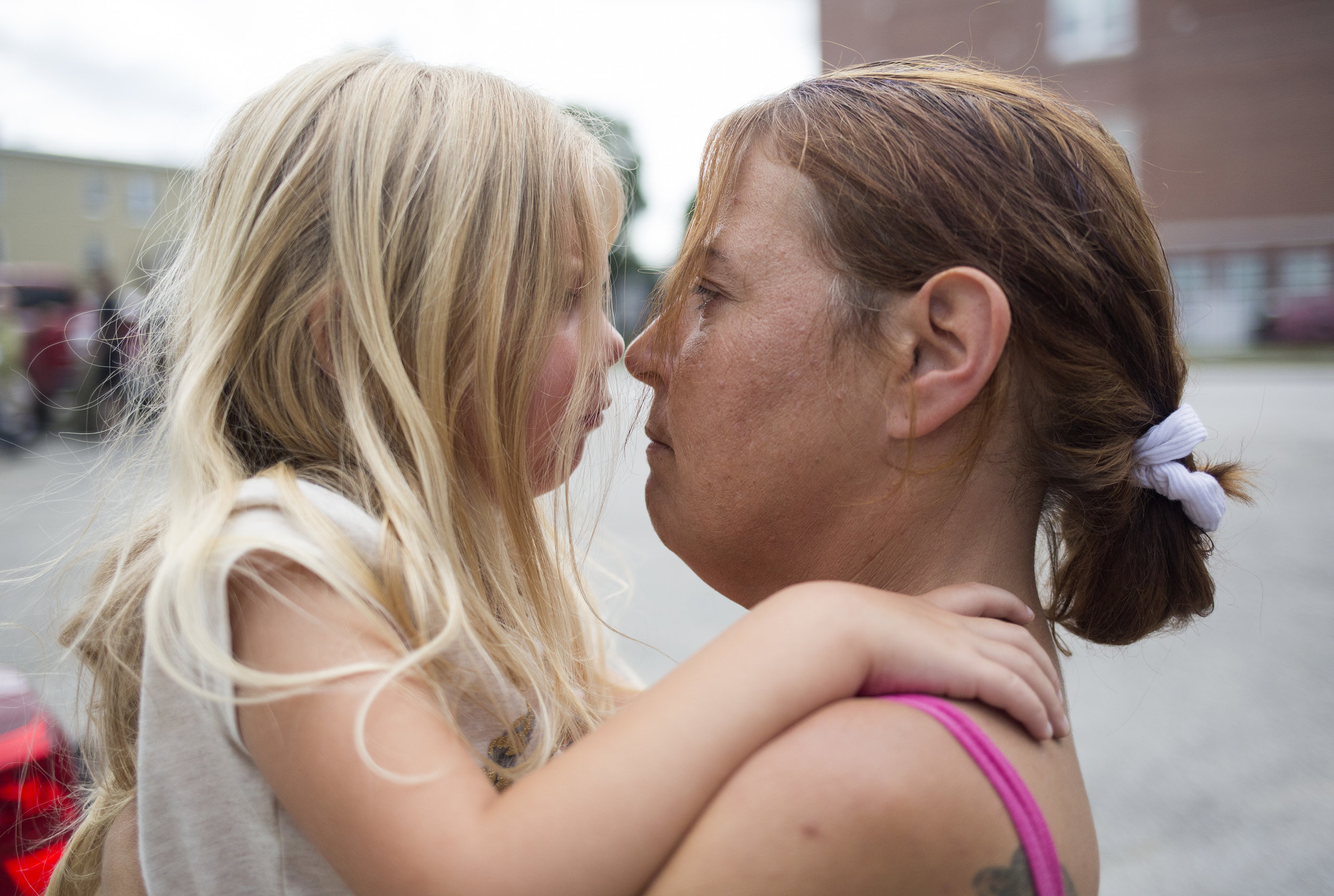 Arianna and Chrissy faced off after Arianna was acting up during day two of their wait for an apartment. Arianna wanted to go play in a nearby park, but Chrissy and Troy needed to wait where they were for an opportunity to talk to the landlord face to face.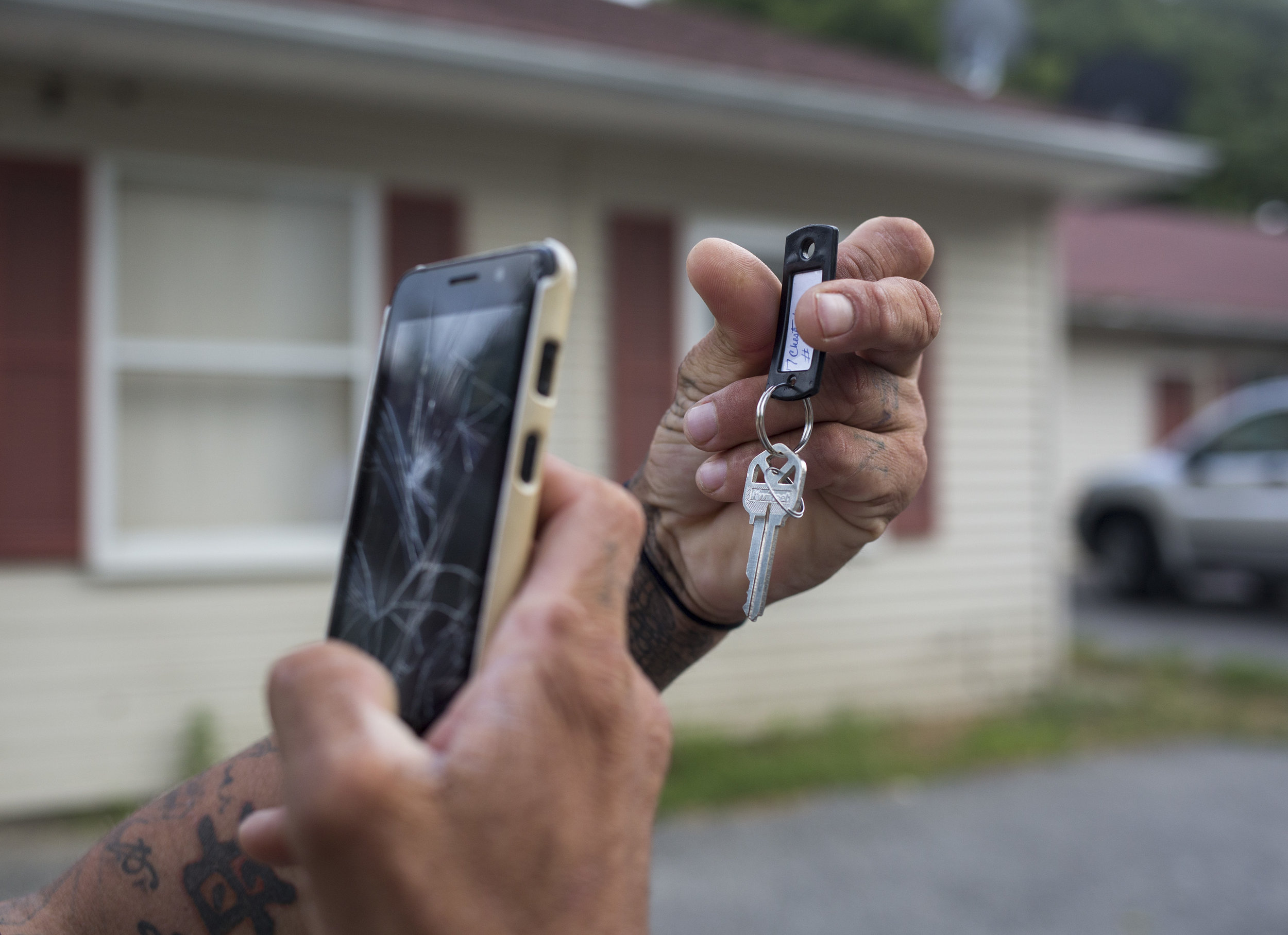 Late in the day after hours of uncertainty, the family was finally able to move into the apartment they were promised. Troy takes a photo of the key to their new apartment for Facebook to show their friends and family that they finally have a place to live.
Arianna heads into the apartment building carrying the walking stick Troy made her while living in the woods. It was the first thing she brought in.
Chrissy and Troy in the stairwell of their new apartment building as they move their few belongings in.
Arianna began to unpack some of her toys in her new bedroom.
Chrissy took a moment after walking in her new home to revel in having a refrigerator again after nearly two months of living in a tent.
Troy gives Arianna advice before her first day of school while she eats her breakfast. They had been living in the apartment for a week, but were having trouble acquring furniture.
Arianna held on to Chrissy tightly and looked back at Troy as she walked into school for her first day of kindergarten. Her excitement for the first day quickly turned into nervousness the moment they reached the school. The rest of the children started school the week before.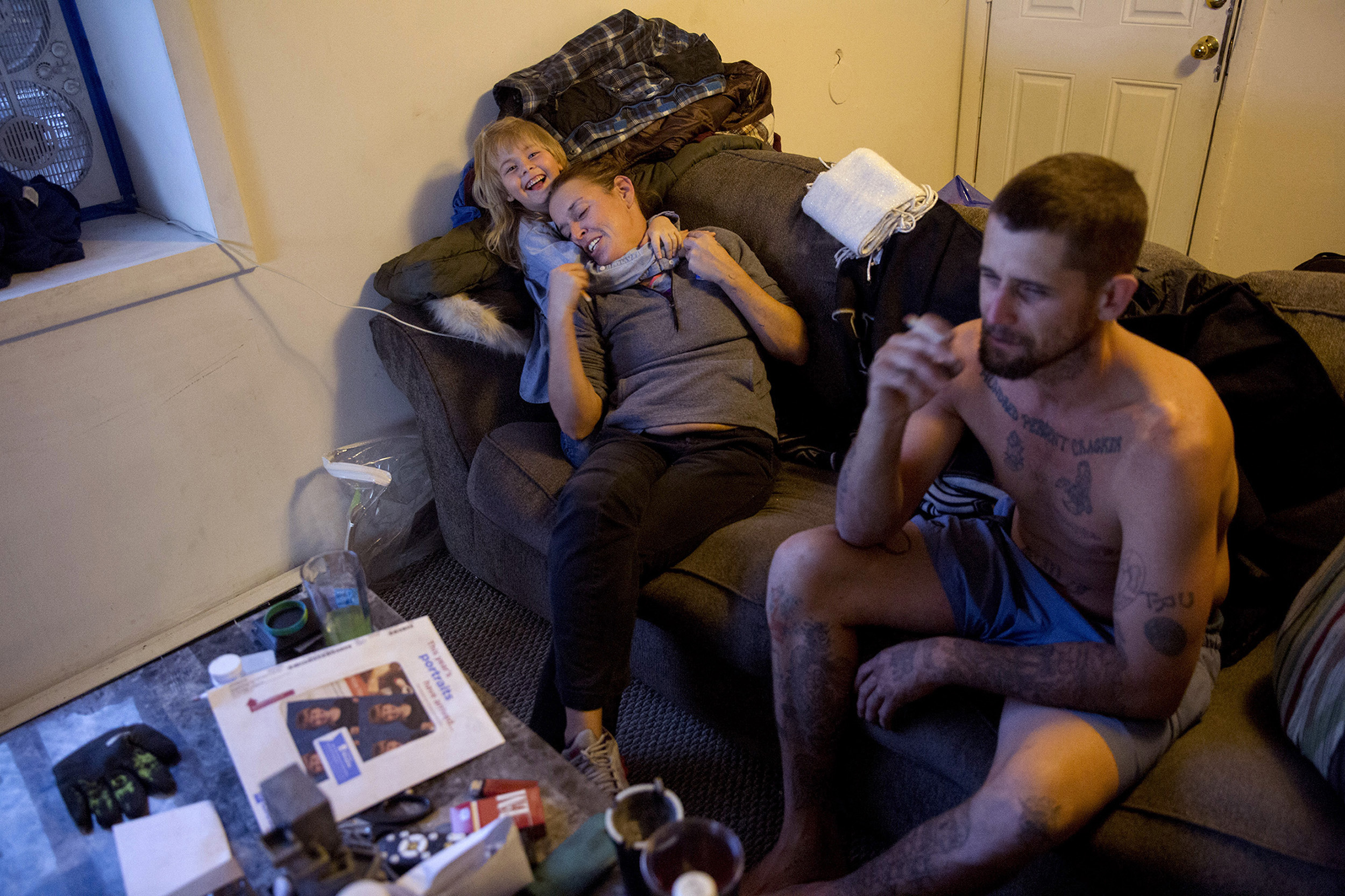 Arianna, Chrissy and Troy spend time together after Troy returned home from work. They had been in their new home for over two months. Troy was working at a temp job when he was in Portland and was able to keep working steadily through the same company when the family moved to Lewiston. The family was off of the general assistance housing vouchers after the first two months.
Chrissy is reflected in the mirror at their apartment a day after a faulty crockpot started a fire in their kitchen. Chrissy put out the fire herself after calling 911 and had to be treated for smoke inhalation. "I wasn't going to let this place burn." Chrissy said.
Arianna outside of her apartment building after she walked home from school with Chrissy. For Arianna, a born and raised Florida girl, New England winter was one of the biggest changes for her.
Troy gives Arianna a hug after returning home from a long day of work.
Arianna jumped up and down on the couch after returning home from her last day of school before winter break. She said she was excited for Christmas, but would really miss her friends from school.