Waria is the Indonesian word for a transgender woman. It is a mix between the word pria, which means man, and wanita, which means woman.
Indonesia has a long history of warias. Before colonialism many tribes embraced their transgender members. They were seen in society as spiritual beings, as people who had two souls occupying one body. They were respected members of their villages. Much has changed for them in the years since.
Caption: Miska rides a public bus to look to look for clients on the tracks of a running train. A waria sex worker generally makes far less money than their cis women counterparts.
Visibility and recognition of the gay and waria communities in some parts of Indonesia have increased, but there is still a long way to go until they are seen and treated as equal.
Caption: An LGTBQ rally in the center of Jakarta.
The pain inflicted upon them by an unwelcoming society does not stop many warias from building their own communities and working together toward the dream of an Indonesia that accepts and embraces their existence.
Caption: A group of warias gather at Mami Yuli's waria safehouse outside of Jakarta. The community looks out for one another, the old for the young and vice versa.
Miska begins putting on her makeup before at her home. The makeup application is a very important ritual for a waria. Miska doesn't wear makeup when she is at home, but always puts it on before leaving the house.
A performer gets ready for a show at a nightclub called Moonlight in Jakarta. The word waria is sometimes used to describe what would be considered a drag performance. Some performers only present as women for shows or at night, and others are "full-time" warias.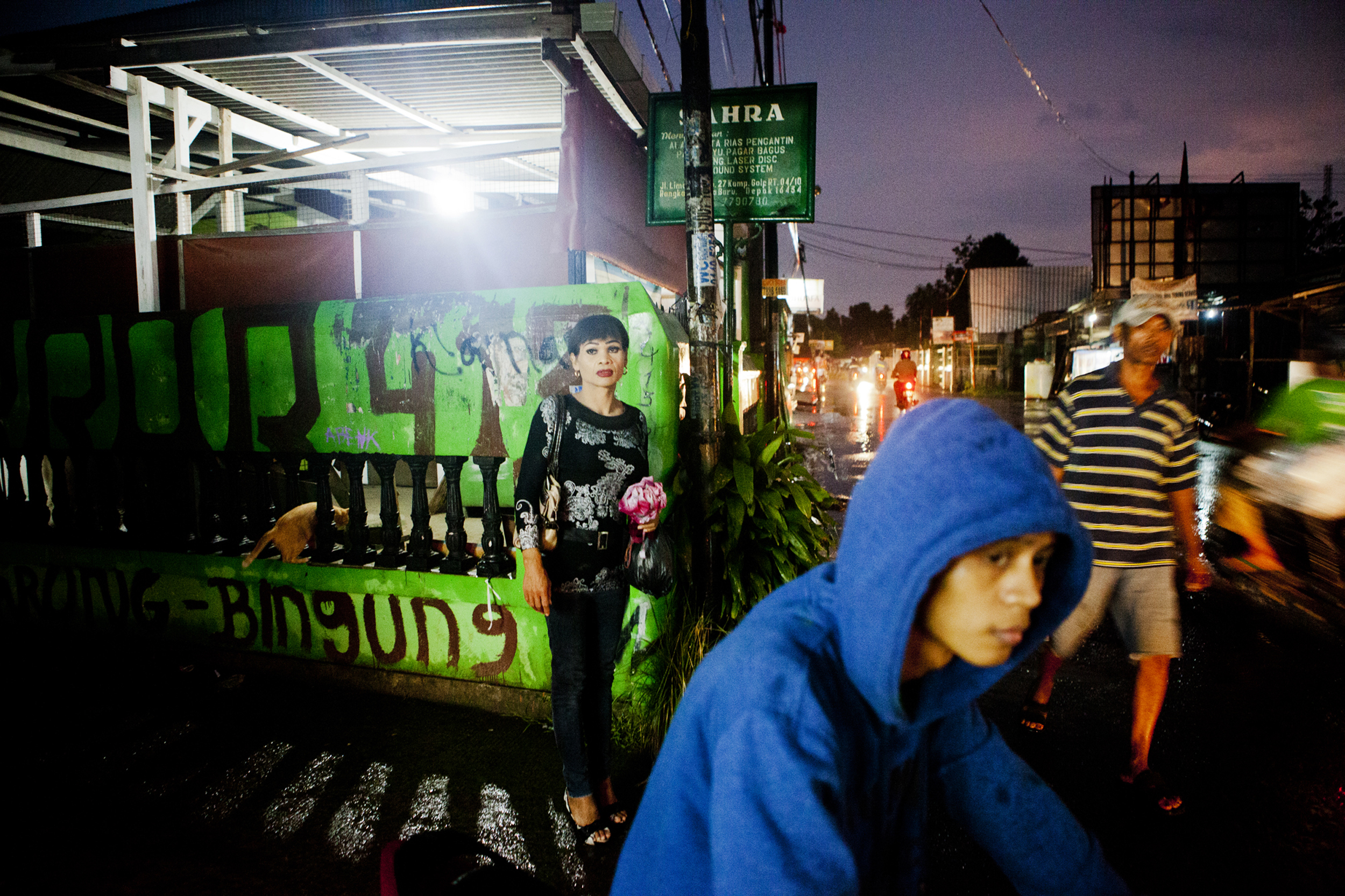 Miska waits for a moto-taxi on the street after leaving the safe house. Miska hopes to one day stop being a sex worker and own her own restaurant because she loves to cook.
There are common threads in the lives of many warias. Sex work is one, mainly because there aren't many job opportunities for warias who live openly. They are seen as sex objects by men, or as a spectacle at nightclubs. They are often the victims of sexual violence and homicide.
Caption: Miska, right, and a friend sit on the edge of the train tracks waiting for clients. Miska said she is physically attacked and raped while working at least two times a year, if not more.
Warias wait backstage for their turn to perform at Moonlight.
Mumun, who lives full-time at the safehouse for warias, helps a young waria named Intan put on make-up. Mumun worked as a sex worker when she was young and then when she got older became a cosmetologist. Intan is currently making her living as a sex worker.
Miska smokes a cigarette at a corner store across from the railroad tracks. The specific section of railroad tracks she works on is for waria sex workers only. They work to keep out any non-waria sex workers who might steal their clients.
Intan and her boyfriend cuddle up to each other at Miska's home. The two love each other, but, Intan says that she hopes to one day live again as a "normal male".
Oma, a 71-year-old waria, sits on a bed in the safehouse. Oma quit wearing traditional women's clothing years ago because she feels to old to do it anymore, but said she will always be a woman in her soul. Aging is hard in the waria community. Many warias are disowned by their families and if they reach old age they have no where to go.
Miska walks down the street on her way to work another night at the railroad tracks.